The Light of Clare Shines in Cork
On Christmas Eve 1914, a dream was fulfilled for a local Cork businessman, Walter Dwyer. This was when the first Mass was celebrated at midnight with the Poor Clares in Cork. He had a daughter, a Poor Clare in Tournai, Belgium, and his one wish was to have her near him when he was dying. Could it ever happen?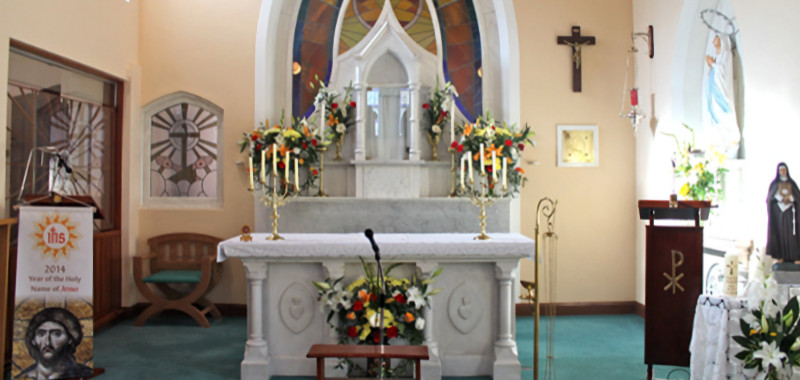 The Monastery Chapel
Manoevering the Foundation
She had entered the Poor Clares in Belgium, taking, along with the three vows of Poverty, Chastity and Obedience, a fourth vow of Enclosure. This meant that she would never leave the monastery apart from exceptional circumstances, such as going on a new foundation. Mr. Dwyer's love for his daughter and his keen determination to have his one wish fulfilled made him confide in a great personal friend of his, a well-known Jesuit priest of holy memory, Fr. Willie Doyle. Together they got going on a plan. Mr. Dwyer would finance the building of a new monastery if Fr. Willie could see to the other side of it: finding nuns to put in the monastery so that the beloved daughter, Sr. Maria Dwyer, could return to the new Cork foundation!
Fr. Willie set off to the Poor Clares in Carlow to see if they could spare a few nuns. The good Mother Abbess must have sensed the Holy Spirit at work in this seemingly extraordinary enterprise and promised to do all she could, even though they had not many sisters to spare since making a foundation some years previously in Dublin. Fr. Willie brought back this hopeful news to Mr. Dwyer, who lost no time in contacting the bishop of Cork, Dr. Callaghan. His reply was that while personally he would be delighted to have a contemplative order in his diocese, his council was opposed to the introduction of new Orders. The Bishop of Cloyne was then approached and he gave his consent. However, owing to an unforeseen difficulty the foundation was not feasible. Dr. Callaghan was approached again, this time with success. The bishop declared that the opposition to new Orders did not include the Poor Clares! So, everything got underway.
Joyful Beginnings
It can hardly be imagined what joy and gratitude filled the Dwyer family as they gathered together with the little Poor Clare community, including their own Sr. Maria, for Christmas Midnight Mass 1914 in the new Monastery. That good Father, Mr Dwyer, had all the consolations he had hoped for when he was inspired to build the Monastery – he died a peaceful and holy death next door to the Monastery in the Bon Secours Hospital. His body rested in the Monastery Chapel the night before his burial. His beloved daughter lived to see a thriving community here in College Road, until she herself died on her father's fortieth anniversary.
Cork Monastery Today
Since then, the Cork Poor Clares have been blessed in so many ways. This is especially shown by the deep appreciation on the part of so many people of our enclosed, eucharistic, contemplative life of poverty and prayer. There is the extraordinary generosity of our good benefactors, who have faithfully provided for our material needs down through the years. There is the constant flow at visiting hours of people coming for prayers – the letter box is never empty! Every conceivable problem and necessity, big and small, find their way into the sisters' hearts, to be brought to the Lord in prayer. The people say, "It's the sisters' prayers"; the sisters say, "It's the peoples' faith". God knows it's a bit of both! More and more are being drawn to come during the day to our public Chapel for a quiet time of Eucharistic Adoration. They remark on the 'something special' about our chapel – so near the busy and noisy road and yet so peaceful and quiet inside.
Continuing the Tradition
It is truly wonderful to be part of what the Lord inspired in Mr. Dwyer and his daughter and our good Carlow sisters and so many friends – continuing the story of Francis and Clare way back in twelfth century Assisi. Today, in twenty first century Cork, together with our Franciscan brothers, who, like Francis was to Clare, are so good to us, we strive to live the Gospel way of life; to be a spiritual support for all people in any kind of need; to reach out in prayer to the whole world of souls; to witness to the pilgrim nature of this beautiful world; to live our Eucharistic Liturgy in a spirit of constant adoration, reparation, intercession and thanksgiving to God; and to be caught up in the powerful hidden mystery of returning love for love. Together we try to let the light of Francis and Clare shine around and beyond the "banks of my own lovely Lee".
We have also been blessed with many vocations over the years, enabling us to make two foundations, one in Scotland and one in Ennis.
Community Today
At present our community numbers eight. As we celebrate 800 years since the founding of the Poor Clare Order in 1212, we hope and pray that many young women will be moved "by divine inspiration", as Saint Clare puts it, to follow Jesus and Mary in our Poor Clare way of life. We thank God that the light of Clare continues to shine out all over the world, century after century. May she shine through us and, together with Francis, may their Gospel light of peace and goodwill brighten the way for our world today and for generations yet to come.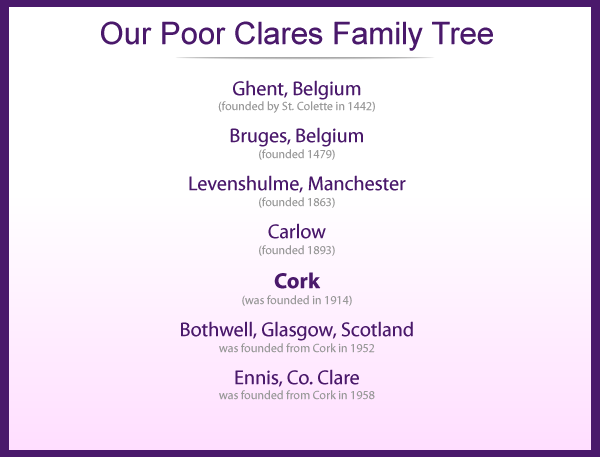 St. Colette of Corbie, was born January 13th, 1381 and died March 6th, 1447. In 1406 she was called by God to renew the original spirit of Francis and Clare in the Poor Clares and Friars Minor. She helped re-establish the First Rule of St. Clare. Those Monasteries either reformed or newly founded by St. Colette in the 15th century and the future communities which sprung from them, like our own Monastery in Cork, are called Poor Clare Colettine Monasteries.