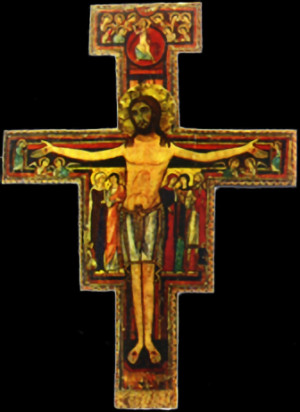 Most High, Glorious God,
cast your light
into the darkness of my heart.
Give me, Lord
right faith,
firm hope,
perfect charity
and profound humility,
with wisdom and perception,
so that I may carry out
what is truly your holy will.
Amen.
Part 1: The Holy Rosary
Part 2: Benediction
There are many devotions associated with the Franciscan family:
The San Damiano Cross
This Cross is now seen in many Franciscan Churches. It is an Icon of the Risen Lord with many small icons incorporated on the arms which depicts different scenes from the Passion.
During the Middle Ages this was a very popular devotion and this was the Cross in front of which St. Francis was praying when he heard the words "Go Francis rebuild my Church". St. Clare who lived out her life in San Damiano would have prayed before this Icon.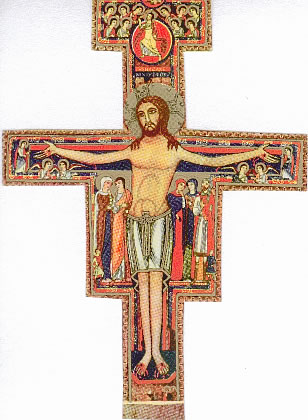 Franciscan Devotions - San Damiano Cross
Easter Triduum at the Poor Clares 2023
Holy Thursday:
Mass of the Last Supper 6 Apr 7:00pm
---
Good Friday:
Stations of the Cross 7 Apr 12:00 noon
---
Celebration of the Passion
7 Apr 3:00pm
---
Holy Saturday: Easter Vigil
8 Apr 8:30pm
Easter Masses 2023
For the week from Easter Sunday
(Sun 9 Apr to Sun 16 Apr inclusive)
Daily Mass will be at 10:00am
Prayer and Stories
Poor Clare Chapel
Monday to Friday
Mass at 7:30am
Saturday, Sunday and Bank Holidays
Mass at 10:00am
Occasionally, if the priest is not available at 7:30am weekdays, Mass will be held at 10:00am