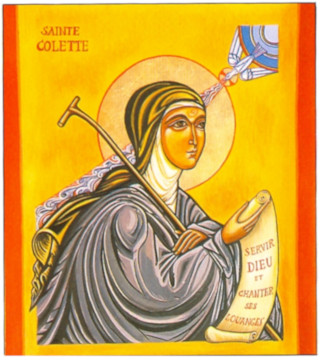 St Colette
For fifteen centuries beloved St. Nicholas has given gifts to child-like hearts.
History records that on January 13, 1381, in the little town of Corbie in France, his petitioners, the elderly Robert and Marguerite Boëllet, who in her 60th year, jubilantly welcomed the birth of their "miracle baby" Nicolette.
Graced by God, Colette thrived.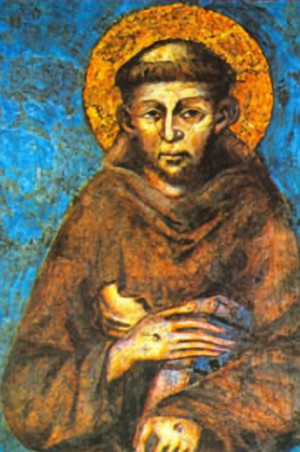 Saint Francis
Francis was born in the small Umbrian city of Assisi, Italy in the year 1181 or 1182. His father, Pietro di Bernardone was a wealthy textile merchant and his mother, Pica, of a distinguished French family.
The times were marked by violence, mistrust and corruption in political and social life. People were distracted by the new commerce. In the Church also there were scandals and unbelief - doubts about the Eucharist and the after-life, and poor attendance in Church.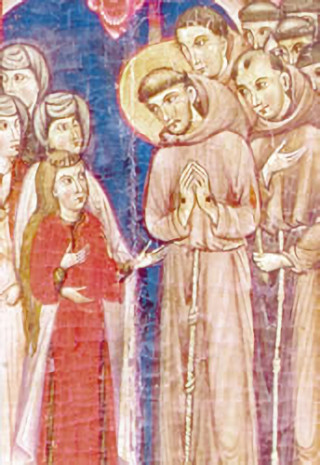 St Francis welcomes St Clare
Clare was the third of five children born to Ortolana and Favarone di Offreduccio, a well-to-do noble couple of Assisi, in 1193 or 1194.
The History of St. Clare, written shortly after her death in 1253 describes the apprehension of Ortolana as the time of her child's birth drew near.
She frequently visited a nearby Church, the account narrates, and one day heard a response to her prayer for the safe delivery of her child...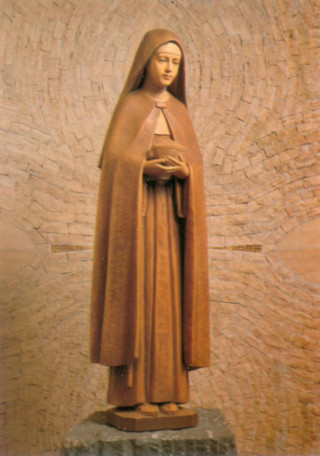 St Clare
While St. Clare was sick in bed, soldiers attacked the monastery and all the sisters were really terrified.
St. Clare feared for the safety of her sisters and asked for the Blessed Sacrament to be brought to her.
She prostrated herself on the ground in humble prayer. Begging the Lord she said, "Lord, look upon these servants of yours, because I cannot protect them".
Prayer and Stories
Poor Clare Chapel
Monday to Friday
Mass at 7:30am
Saturday, Sunday and Bank Holidays
Mass at 10:00am
Occasionally, if the priest is not available at 7:30am weekdays, Mass will be held at 10:00am