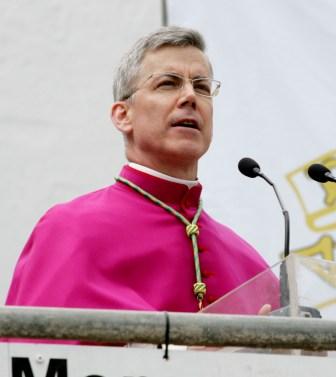 Papal Nuncio Archbishop Charles BrownHomily notes of Apostolic Nuncio Archbishop Charles J Brown for Mass celebrating the Eucharistic Procession in Cork
O Sacrament Most Holy, O Sacrament Divine, All praise and all thanksgiving be every moment Thine.
It is indeed a great pleasure for me to be here in Cork this afternoon to take part in this historic Corpus Christi procession. In a special way, I want to thank Bishop John Buckley for having invited me to be with you today. And what a joy it is to carry the Blessed Sacrament through the streets of this beautiful city. Throughout the Catholic world today on this Solemnity of Corpus Christi, there are processions of the Blessed Sacrament. These processions, some of which date back hundreds of years, are an expression of our Catholic faith in Christ's Real Presence in the Eucharist.
Read more: Archbishop Charles Brown preaches at the Eucharistic Procession
Sr Francis recently spoke to Tom Dunne on his Newstalk radio show.
Listen to the full interview here.
Notice
Due to the pandemic, the Sisters are not yet available to meet visitors, however letters can be left in at the Gate Lodge.
God bless you
Poor Clare Chapel
Monday to Friday
Mass at 7:30am
Saturday, Sunday and Bank Holidays
Mass at 10:00am
Occasionally, if the priest is not available at 7:30am weekdays, Mass will be held at 10:00am